I've worn my Watch every single day since it was delivered to my house on May 12th of last year. It has never been a question of whether or not I want to wear it. It's a part of my daily routine, and it became that immediately for me.
The only day I haven't hit my standing goal of 12 hours or more was the first day I received the Watch, since I didn't get it until 3pm. My average for stand is 15 hours, with my best day at 20 hours. I don't sleep much, and I like to get up and walk around often during the day. This one is not a challenge for me.
I average 691 calories a day, hitting my goal of 560 about 61% of the time. I still think 560 is too low, so I'm hoping to improve that further.
I average 47 minutes of daily Exercise, hitting my 30-minute goal about 76% of the time. Not bad, but again, I would like to do better.
The funny thing with these simple health stats are that I didn't care about any of this before getting the Watch. Not everyone will be motivated by the Activity app, but for me, having this app alone makes the Watch worth wearing every day. I also enhance the experience with David Smith's Activity++, which is how I got a lot of the above percentage stats. The fitness motivational aspects of the Watch are a small step toward helping me achieve better health for myself, and that's better than any other gadget I've ever owned can claim. It's not going to make me healthy all on its own, but it sure doesn't hurt.
Band Addiction
I now own four bands for my Apple Watch. I would not have guessed that a year ago, but having multiple bands does make wearing a watch more fun. I find myself switching bands almost daily, depending on my mood. I care about the fashion aspects of this gadget way more than I expected to, in other words. Another thing that isn't bad.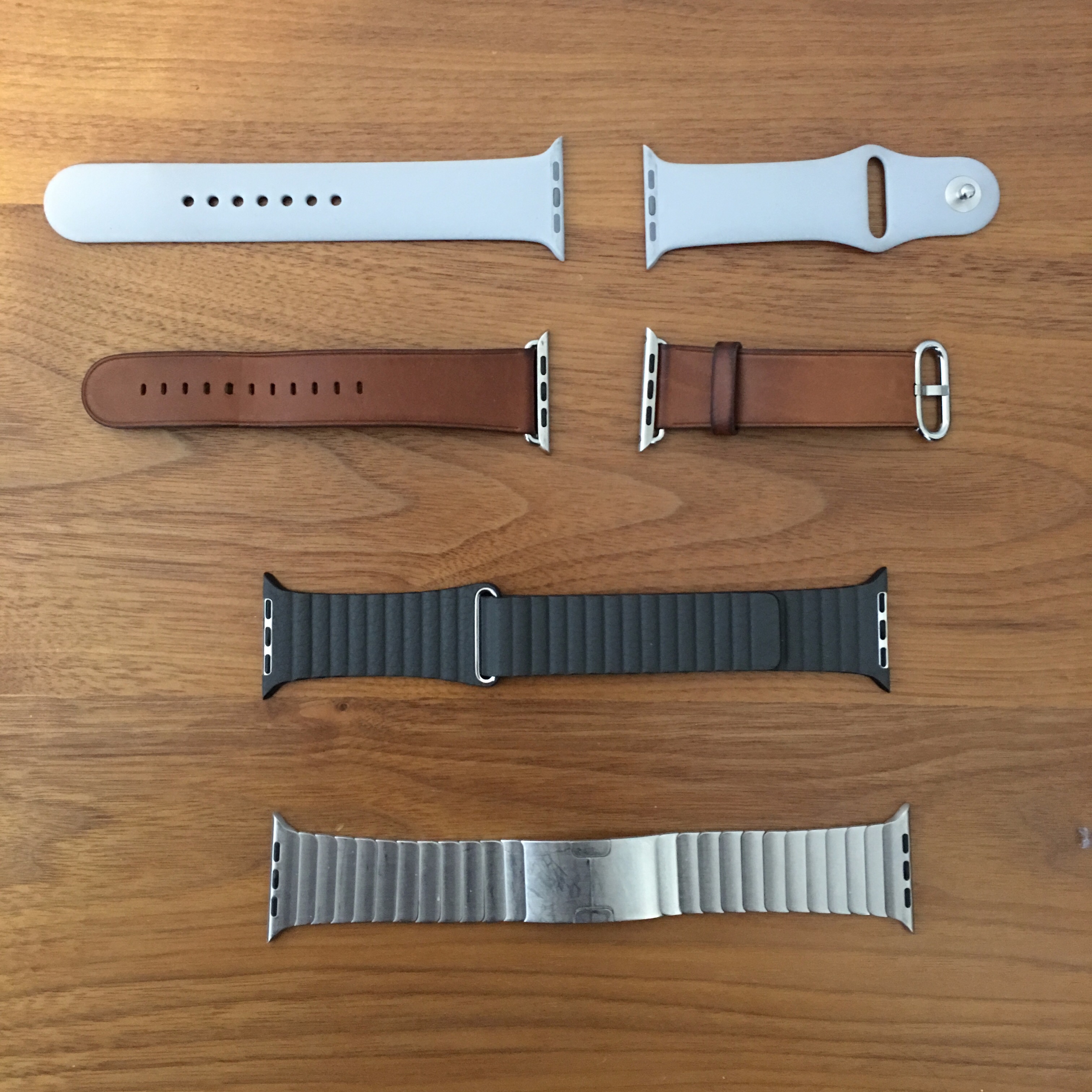 The four bands I chose are the Link (in silver, my original band that came with the Watch), Sport (Fog), Classic Buckle (Saddle Brown), and Leather Loop (Storm Gray). I wanted to have each of the different kinds of clasps available, so I could make an educated guess as to which ones I preferred. To be honest, I like them all quite a bit. My original Link is still the favorite, though.
I imagine I will probably pick up a new band once or twice a year, as new styles and colors arrive in different seasons. Brilliant move by Apple, to constantly refresh the line of bands. Unlike many others, I've always assumed the current connectors will stay the same for at least another few years.
I tried two different third-party bands and found them lacking, to say the least. I'm sure there are good third-party bands out there, but Apple's are amazingly well designed, so I don't bother looking anywhere else.
Battery Life
I have never fully run out of battery on my Watch, though I've come close many times. I don't sleep very much, and I tend to wear the Watch everywhere, including to bed. So I only charge it in the mornings while I shower and get breakfast. 45-minutes to an hour a day is all the Watch needs to stay charged most days. The few times it has run down, low power mode has kept it alive enough to at least show me the time.
I imagine battery life will improve in the next few generations. It's just barely good enough right now.
Watch Faces
For the first couple of months, I used the Utility watch face exclusively. Now, I tend to change faces, depending on which band I'm using. Mostly, I use Simple, though.
It's funny how some faces just make no sense unless you have a particular band. The Color face, for instance, looks horrible with the Link bracelet. But pop on a Sport band, and it works. Same for Modular. I would never use Modular with the Classic Buckle, but again, it looks fine with the Sport band.
The faces I never use are the ones with no complications. If I can't see my Activity rings, I'm lost. Unfortunately, that rules out the very cool Solar and Astronomy faces. I also don't use Mickey Mouse. Not my thing. Utility was ruined with the muilti-color Activity rings, so I now only use it very occasionally with the Classic Buckle. Chronograph, also, I only use occasionally, and only with the Classic Buckle.
I'm really hoping for many, many more watch face options in upcoming versions of watchOS. I'd like to change my watch face as often as I change my bands. And I want every face to be more customizable.
The Intangibles
The level of customization possible with Apple Watch surpasses that of any other Apple product by a long shot. I think that's a huge part of the appeal. Apple is showing a much deeper understanding of the importance of self-expression when wearing technology than other tech companies trying to get into this market. I think tech enthusiasts, who are often clueless about the these things, miss this entirely when they assess Apple Watch.
No, Apple Watch can't compete with a Rolex or Omega in terms of high fashion. But to the bulk of middle class customers who aspire to accessorize with something cool that raises their status and makes them feel special (Apple's key demographic), Apple Watch is right in the sweet spot. Remember, Apple isn't a luxury brand. It only acts like one. It doesn't make BMWs. It makes Toyotas and brands them to make you feel like you bought a BMW.
Given that most mid-range wristwatches cost more and do far less, Apple Watch compares favorably to what most people are currently wearing. Features, whether present or not, whether perfectly implemented or not, have never determined success for this kind of accessory. I think how Apple Watch looks, and how it is perceived in the culture matters a heck of a lot more than whether there may be a few flaws in the software, in other words. And most experts in the watch field seem to agree Apple is doing very well on that front. As I've argued before, the iPod became popular because iPods were cool, not because they were the best music players. The question is whether or not Apple Watch can achieve that cool status in popular culture. I'm confident it will.